RC (Responsible Care)
RC (Responsible Care)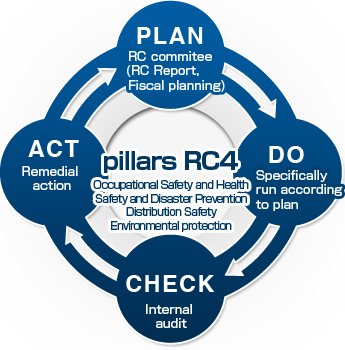 Occupational Safety and Health
Safety and Disaster Prevention
Distribution Safety
Environmental protection
Nissan performs continuous improvement activities to make your logistics operation safe, efficient and cost effective. This includes occupational health and safety pillars RC4, safety and disaster prevention, logistics safety, environmental protection along with an annual scheduled review based on the PDCA cycle (plan-do-check-act cycle).,pillars RC4 Elimination of
Occupational Safety and Health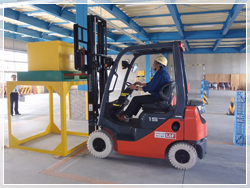 Elimination of occupational accidents
Every effort is made to ensure health and safety compliance through, (KYT), risk-prediction training Hiyari Hatto We also conduct risk assessment activities.
*Hiyari Hat Kigakari (HHK) are things that may become the disaster or serious accident under the unexpected condition, That mean literally that the things pass over or make us gasped.
Efforts to eliminate labor accident
We are working to eliminate work-related accidents by individuals and to provide annual companywide educational seminars on safety.
Additionally we conduct emergency preparedness drills that are coordinated with public authorities so they can respond quickly in an emergency.
Transportation safety management
The Safety Council conducts organized training sessions and provides guidance on improved safety awareness and technology.
The Safety Council aims to offer a safe and secure service.
Improve skills on a regular basis through training.
This includes seminars and testing of forklift drivers in our continuous effort to ensure safe and reliable operation of the forklift.
Safety and Disaster Prevention
Compliance with Occupational Safety and Health Laws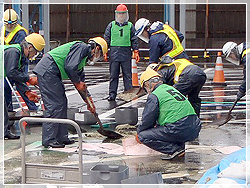 This includes business Law as well as transportation laws such as the Road Traffic Act, to comply with applicable laws and regulations related to chemicals over a wide range, occupational health, safety and disaster prevention to ensure environmental protection.
Provide information on environment, safety and health aspects of material handling.
Improve and correct source of regulatory information.
Various management qualifications required.
BCP
By developing Business Continuity Plans, we are working to secure the safety of employees, to preserve business assets, and to promptly restore operations and minimize the impact related to transport business, at the time of a disaster caused by a major disaster.
Prevention of the damage expansion when a serious accident occurred
On the 1st of Apr. 2017, we adopted Hazardous Material Emergency Response Service (HAZMATers) and Hazardous Material Safety Service (HMSS) provided by Maritime Disaster Prevention Center (MDPC).
MDPC is General Incorporated Foundation and the only one private organization in Japan for disaster prevention.
MDPC has 3 bases (Yokohama, Kobe, Kitakyushu) and 45 points to make immediate action against accident any time, any day.
Distribution Safety
Distribution Safety
"Safety and quality logistics is a basic policy at Nissan" along with a safe "management philosophy".
In addition we utilize the G-Mark system of certification and (business safety assessment carrier truck) traffic management for Green Ecology.
Eco-drive

To actively participate in training sessions to improve awareness by drivers.

Auditing

Internal audits on a regular basis, to continually make improvements.
Environmental protection
Reduction of an environmental burden
By promoting "modal shift" and "combined transport" from a conventional truck transport , we were awarded a prize of the Ministry of Land, Infrastructure and Transport Maritime Executive as an excellent company in the business of an eco-ship modal shift in 2012.
Delivery system AdBlue
Transportation conditions are tailored to the needs of "(AdBlue ®)" customers.
AdBlue is aqueous urea used for NOx reduction of exhaust for diesel powered vehicles.A transportation system for up to medium-sized containers has been established.